Introduction
Lights are an essential tool for responders during a flood event. They can be used for search and rescue, roadway damage markers, evacuation routes, and temporary relief and medical centers. Often flood response and relief operations can be long-lasting events requiring lights to continue operations into the night.
Severe flooding is caused by heavy rains, hurricane remnants, or snowmelt. Floods can arrive rapidly and last a few hours or creep in slowly and submerge an area for days.
Floods are a severe force of nature that can unexpectedly sweep people down rivers, wash out bridges and roads, leave people stranded on rooftops, and submerge critical water or sewer infrastructure systems.
In this article, we'll look at different types of lights and how they can be used for flood response.
Needs and Pain Points
Rapidly Changing Conditions - Flood waters can rise and change course very rapidly, forcing you to adjust your operations and tactics or move your position.
Damaged Roads, Bridges, and Evacuation Routes - Powerful water can take out roads and bridges, altering evacuation and supply routes.
Flash Floods Catch Unsuspecting People - Flood waters can arrive an instant, even when there is no visible rain or storm. People caught in fast moving water can be swept down the river or displaced to remote high ground.
Adverse Conditions for Search and Rescue - During or after a flood, rains may persist and the ground may be soaked or even unstable. These conditions make it harder to work as the terrain is slippery or muddy causing additional safety concerns for responders. Wet, muddy conditions are harder on equipment as well.
FoxFury Solutions for Floods
How Do These Solutions Help Responders?
You can work faster and more efficiently with portable lights that deploy in seconds.
You can create a safer scene and reduce injuries with lights that can be rapidly positioned anywhere on the scene.
Keep your operations going when the weather or conditions are bad. All FoxFury lights are completely waterproof (IPX7).
Start your search immediately and not be delayed waiting for rental lighting to arrive.
Be self sufficient - You don't need to depend on other agencies for critical lighting.
Be confident that lights can run all night with long runtimes up to 24 hours.
Enjoy better communication and reduced stress on the scene with silent operation.
Now, let's look at how each of these different lights can be used and how they can benefit your rescue or response operation.
Nomad® 360 Scene Light
The Nomad 360 scene light provides 360°, area or spot beams giving you more options to fit your needs. It features a long runtime of 3-24 hours to last all the way through the night.
The 8 1/2' maximum height extends over walls and vehicles for even illumination. The extended height also keeps the light out of your eye line for less brightness fatigue.
Benefits
Quickly position lights where you need them when conditions change
Use the same light for search (spot), task lighting, or indoor scene lighting
Illuminate over walls and vehicles with the maximum 8.5' height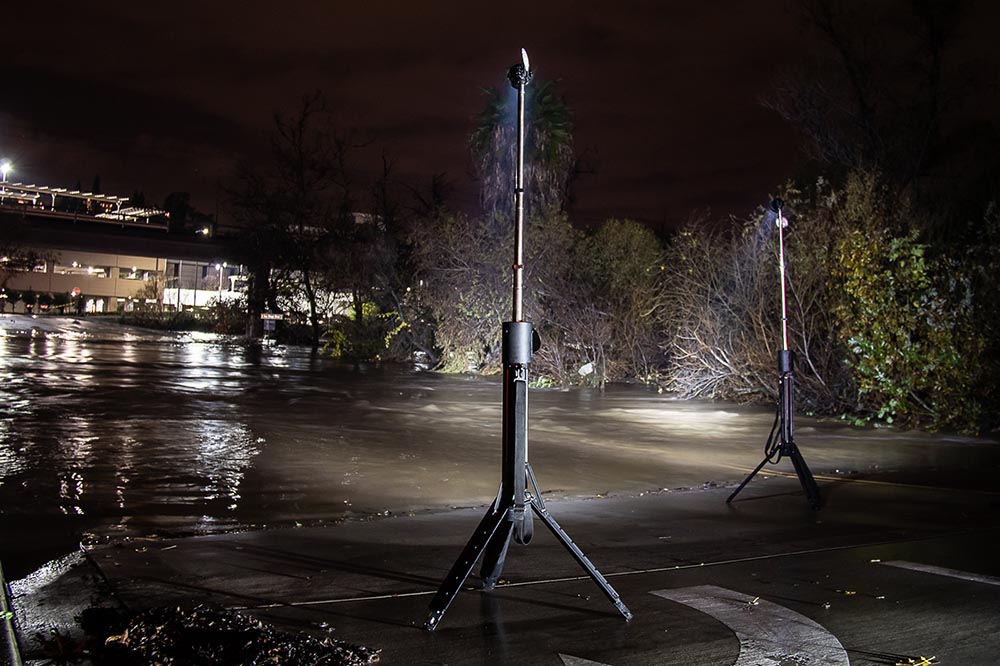 Nomad® Prime Scene Light
Light up a scene in seconds with the battery-powered Nomad® Prime Portable Scene Light. With built-in tripod legs, the Prime extends up to 8ft (2.4m) tall to deliver up to 5,600 lumens. This cordless, rechargeable LED light can operate as a spotlight or flood light (by adding or removing the diffuser lens) with a run time up to 24 hours.
Benefits
You get more lighting value with two lights in one - Spotlight and area light
The 8' height shines over people, vehicles and walls.
Work in wet and adverse conditions with confidence with rugged durability and waterproofing.
Color Bands for Nomad Scene Lights
The FoxFury Color Bands enable the Nomad® 360 or Prime Scene Lights to be used as beacons (on flashing mode) or as marker lights (on solid light modes).
Depending upon the event, these Color Bands can be used to help mark key locations and/or help call out places of significance. For instance, they could designate anything such as road damage, medical or relief tents, incident command posts, staging zones, or triage areas.
Benefits
Communicate more easily with color in loud or stressful situations
Adds value to Nomad scene lights by expanding their versatility
5 different colors let you use them for different purposes
Breakthrough® BT2+
Find victims from up to 1000 ft/330 m away with the powerful Breakthrough BT2+ handheld spotlight. This 90° flashlight has a concentrated 2° beam that cuts through fog and dust so you can see further. The BT2+ features durable construction that is waterproof, impact-resistant, and fire-resistant.
Benefits
You can see farther with box light power in a portable handheld package
The BT2+ is comfortable to hold and easy to operate, even when wearing heavy gloves.
It securely clips to your belt or gear when you're not using it.
Runs on easy to find AA batteries when working in rural areas
Command+ Helmet Light
Command+ LED headlamps and helmet lights are rugged and compact. A wide light beam provides panoramic lighting and immediate situation assessment. See colors more accurately with True to Life™ LED technology.
Tilt and LoPro versions will fit most types of helmets. The Command+ is available in AA or rechargeable battery versions to meet your operation's needs.
Benefits
Have hands-free light always illuminating where you are looking
Experience less eye fatigue with a broad, even beam
Be more visible to your team and safer on the scene with the Rear Safety LED
EXOLANDER© Drone Systems
The EXOLANDER© Drone System is a custom, adaptable frame system that provides a more stable landing platform for your drone. It allows you to mount anti-collision lights, spotlights, and payload delivery systems to your drone. Models are available for Autel, DJI, Yuneec and Skydio.
Benefits
Fly, launch and land more confidently with the larger, more stable footprint with landing skids.
Use the tools you need for search, overwatch, and aerial assessment.
Keep your drone cleaner and drier when landing in wet or dusty environments.
Access and illuminate remote victims.
Conclusion
Using quality lighting for your flood response and rescue operations can have significant benefits.
Enhanced safety for victims and responders.
Responders can search immediately and not be delayed waiting for rental lighting to arrive.
Self sufficient - Don't have to depend on rentals or other agencies.
Responders can quickly move portable lighting around a dynamic site to adapt to changing conditions.
Responders can confidently use lights in wet conditions.
Silent operation reduces stress and miscommunication for responders and victims.
Durable construction gives responders piece of mind that lights will last through the mission.
Can assess inaccessible areas with drones and spotlights.
Monitor changing water levels.